I love a good beer/food pairing dinner. The problem with most of them is that they always serve meat. This an awkward situation for a vegetarian like me. If you are in the situation I find myself in, throw your own beer tasting dinners. For the second Epic Beer Tasting, Dave from Beer i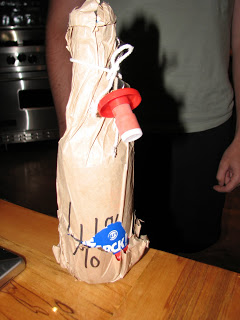 n BC
brought a Sink the Bismarck by BrewDog.
The format for this dinner was a little different; we did it potluck style. I prepared a loose menu and guests were required to bring certain dishes or the paired beers. Suggestions such as, "bring olives and pickles" or "bring an IPA" were well received and followed to the letter. As for the venue, a big thanks goes out to Rod Phillips from
Liquor Plus
for allowing us to use his beautiful tasting/cooking room. It was truly a stunning venue.
Now on to the food.


The welcoming beer was Mill Street's Organic lager. This was an excellent choice; the flavour was light, bright and not overly taxing on the palate.
The first pairing was Bruchetta and a Vienna style lager. The maltiness of the Brooklyn Lager mixed well with the acidity and sweetness from the tomatoes.
For dish two, olives and pickles were paired with a Saison. This was the surprising hit pairing of the night. The yeasty spiciness of the
Driftwood Farmhand Ale
balanced out the fat and saltiness of the olives. If the olives were spicier it would have been even better.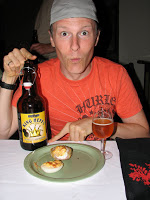 The next pairing was against my wishes but everyone loved it. Dan from
Small Beer
brought devilled scotch eggs and some regular devils for me. I really did not mind; it makes for a good controversial opening sentence. Props go to Dan for an excellent and creative dish. This was paired with Howe Sounds King Heffy. The banana, citrus and tart wheat cut through the heavy protein and creamy egg yolks. Dan has posted the recipe on his website. They were very good. Even my buddy Geoff, who hates eggs, sampled a few.
The next pairing was sponsored by myself. I paired a limited release Trappist beer with creamy brie cheese and crackers. Yes, I know pairing creamy cheeses and strong belgian pale ales is too easy. The plums, yeast and candied sugar of the
La Trappe Isid'or
has enhanced by the high fat creamy brie.

A good IPA can be paired with anything, even breakfast cereal. In this case, we took Phillips Amnesiac IPA and let it do battle with Mrs. Left4beer's phyllo mini-pizzas. The pizza toppings included caramelized onion, portabello mushrooms and camembert cheese. The sweet and rich pizzas were no match for the caramel and imposing citrus hop bomb that is the Amnesiac double IPA. The two gastronomic menaces blended fabulously.
The final pairing was the uber hopp
ed and ultra strong
Sink the Bismarck
frozen IPA. This 41%ABV hoppy monster is an impossible pairing. You need something super sweet or spicy to balance out this ultra hop behemoth. A sweet carrot cake was up to the job, but it was no match for the Bismarck. Simon's cake was very good though.
Thank to everyone that attended; it was a good night. Nothing pairs better with good foods and beers than good friends.