There are some beer reviews that are biased from the start. This is one of them. I love coffee and I love beer. My 'indestructible'
Saeco espresso machine
is almost dead. I have even dry
hopped espresso
before. This is another local beer formula that seem to work.
Swan
's,
Hoyne
and Canoe make a coffee infused something.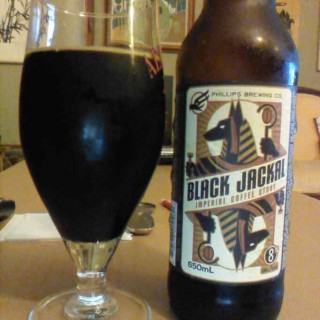 Black Jackal =

8

/10
You must love coffee to fully enjoy this brew. The nose consists of espresso grounds and not much else. Each mouthful is chewy, powdery and astringent from the espresso roast. This tastes like blender processed, dark chocolate covered coffee beans. It is hard to pick out a flavour that is not coffee related. I am OK with that. Do not drink that beer to close to bed, you might have difficulty sleeping. This warning comes from first hand knowledge. Your dreams will be long with images of dry cocoa and coffee grounds.
Taste +4
Aftertaste +1
Alcohol Content +1 8%
Value +1
Appearance +1 (Always great art and description of beer flavour)
Other coffee beers
Swan's Double Shot Porter
Hoyne Voltage Espresso Stout