I think this is a truly new release from one of Victoria's oldest breweries since 2014. For those keeping score, the last release was
Sabotage
. Nice to taste something truly new. Not much about this beer on their website, so how does it taste?
Highway 19 = 7/10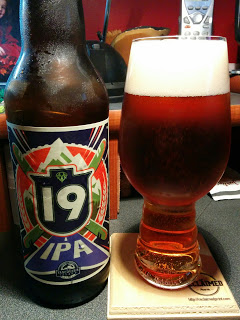 Yup, it's got Mosiac. It has the nose of tangerines, mangoes, papaya with only a hint of grass. I
thought it was a little thin with a medium full and astringent mouthfeel. The tropical never stops, you might get a little bready and caramelized malts if you are lucky. But the rest is all assertive astringency of the tropical fruit, tang, papaya and onion variety. This flavour lingers for an impressive length of time. Nothing off or grassy to note, quite tasty. You are either a Mosiac (
HBC342
) fan or not.
Taste +3
Aftertaste +1
Alcohol Content +1 6%
Value +1 (I would buy again)
Appearance +1 (suitable description of flavour on label)
Glassware
: Just a clean pint glass or a fancy IPA glass. I think the IPA glass is a little over-rated and hard to clean.
Food Pairings
: Hit it with a lemon chicken or Peking duck with a citrus glaze. For those vegans out there, try it along side mango fried rice with tamarind tofu
Cellar
: nope