Have you ever thought that the sequel was not as good as the original. I have felt with way with the Matrix movies and Star Wars. Another sense of disappointment happened with the Super Krypton. It is not that this beer is bad, it is quite tasty. I was expecting a super charged version of the regular Krypton. This is my favourite part of the Hop Box. Maybe this is where expectations tainted experience.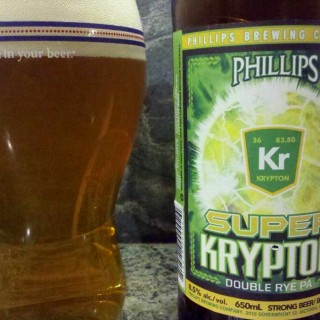 Super Krypton Rye = 6/10
Super's nose is massive of citrus, booze and a slightly dusty rye. Things start to fall apart at this point. The sip is full but boozy and syrupy. Hops are a big part of this brew: spicy, citrusy and slightly medicinal. What is oddly lacking is the big rye. There is some dry, dusty flavours of this desirable grain but it is overshadowed by the booze and regular bready malts. Don't get me wrong, this is a tasty brew. But I think we were all craving more rye. There could be no other food pairing than a Reuben sandwich.
Taste +2
Aftertaste +1
Alcohol Content +1
Value +1
Appearance +1