This post is purely to make
EskimoDave
jealous. One day he asked to see my home bar and glassware collection. Those who follow my blog might have noticed the glassware used; yes, it is all mine. I love to collect beer glassware. Not like
this guy
. There are a few rules about collecting glassware that I firmly stick too. The only style that I am missing is an
English thistle
.
1. Never pay more than $4 for anything. Unless it is really, really cool. Most of my glassware was found at yard sales or thrift stores for under $1.
2. Never buy anything with chips or imperfections. There will always be a perfect glass to be found.
3. If you find something cool and you already have it, buy it for a friend.
4. If you find a better glass, pass along the old one. If you don't it is called
hoarding
.
5. Take care and display your collection properly.
This is for you Dave.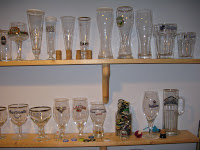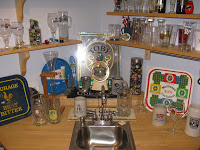 And some new beers from Portland.