I have predicted a local Victoria brewery collaboration for years. If you keep making the same prediction year,
after year
eventually it will happen. This collaboration was no surprise as Driftwood and Hoyne share the same parking lot. Wonder why it took almost two years for this to happen? Hopefully this will become a regular event. Local brewers must realize, that while they are friendly competitors, the bigger prize they all chase is the massive 80%+ market share owned the the big breweries. Working together will reduce this domination quicker.
Everyone knows that I am dedicated follower of classic beer styles. The Baltic porter is a style influenced by the imperial stouts on route to Russia. Much of this thick English brew passed through the sea ports of Estonia and Latvia. Naturally, local brewers prepared recipes to hopefully gain favour of the Russian imperial court. The lagered Baltic porter was born. I love a good Baltic porter. There are two that stick out in my mind:
Black Boss
and
Baltika 6
. Both of these beverages are to be purchased on sight. Maybe I should trademark that phrase, "Purchase on sight", POS for short. Nah.. might get confused with Point of Sale or Piece of ... something.
Anyways, the style should be thick like oatmeal, clean like a sanitized toilet yet fruity as an episode of "Will and Grace". What did the Cicerone Certified (R), BJCP Judge think of this mash up? By the way, I don't think the 8% ABV listing is accurate.
Rock Bay Mash Up = 6/10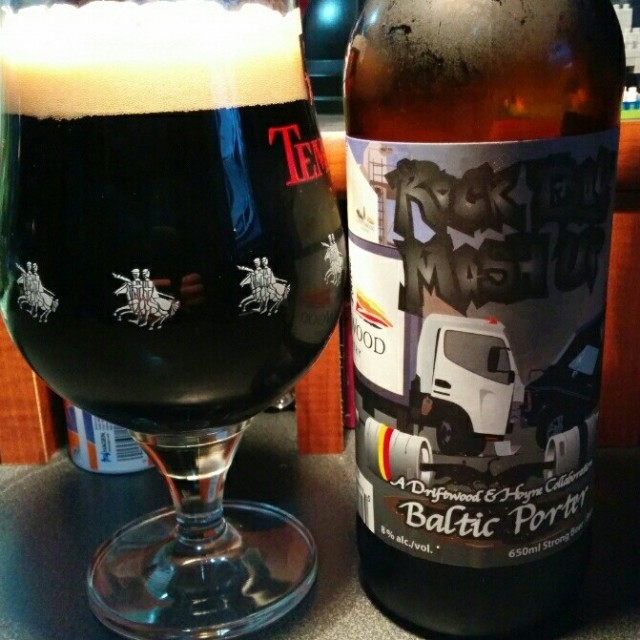 The nose is unassuming with only mild hints of roast. I hoped to enjoy some thick lager characters and milk chocolate. A dark brown wash hits the tongue with an initial alcohol burn mixed with toast and Nutella. Anticipated dark berries were replaced by twinges of green apple. The mouthfeel was almost there but the thinness made things end too quickly.
Looking back, this review sounds terrible. It is rather unfair. Label this beer an extra robust porter or a foreign stout and call it even. Memories of the past flavours taint the present. I was hoping to sit down with a ridiculously underpriced bottle of Baltika 6 to relive a glorious past. Instead I got an almost $10 bottle of beer that didn't live up to expectations. The bar was set pretty high. Get out there, buy this beer. It is tasty. Just don't compare it to Black Boss, Baltika 6 or that stellar
Les Trois Mousquetaires
version.
Taste +3
Aftertaste 0 (it just ended)
Alcohol Content +1 8% (Does anyone have a refractometer I can borrow?)
Value
+1 (only for the mash up part)
Appearance +1
Awesome
label
Julie
Glassware
: No real traditional style here. Use a tulip or snifter. For goodness sakes don't serve me a Baltic porter, or any strong beer, in a
pint glass
.
Food Pairings
: Grab a thick tofu steak and go at it.
Cellar
: If there was yeast on board, I'd say let it age to eat up that green apple. Otherwise nope.