In a previous life, I attended a few business seminars. One piece of advice that stuck with me was about entrepreneurial success. The speaker said, "When everyone is going right, go left for success." Luckily this was a free seminar, because the rest of the talk was rubbish. This beer mirrors that MBA level wisdom. When everyone is making palate burning IPA bombs, try something different. Adding fresh hops to an unchallenging beer style, such as the American brown ale, seems like a good idea. Note that I did not say boring; the Brooklyn Brown Ale is
anything but
boring. A fairly restrained malt profile would let the hop flavours shine.
This is Lighthouse's first attempt at a fresh hopped ale; I could be wrong about this.
Rumour
has it that
Zeus
was used to brew this fresh hopped ale. So what happens when you go left? I review this beer with a bit of trepidation as I will be having dinner with the brewer on Friday.
Road Trip = 7/10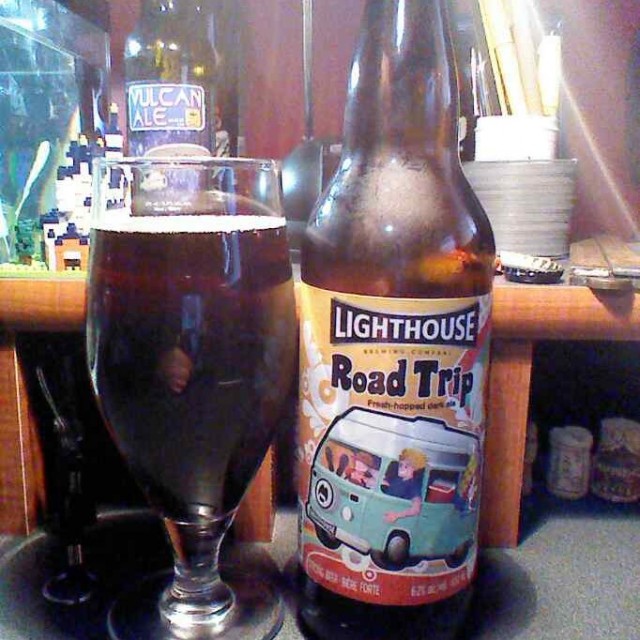 The aroma is uncharacteristically calm when compared to other fresh hopped beers. The aroma is quite restrained in revealing its earthy citrus vapours. This aromatic tranquility allows the toasted nut and chocolate malts to be a part of this flavour party. Each sip follows the nose with a juicy mouthfeel. If you are looking for the usual wet hopped profile powerhouse, this brew is not for you. I found this beer refreshingly balanced. I also take issue with the bottle format; it is too small. Perhaps this is my failure, two bottles should have been purchased.
Taste +4
Aftertaste +1
Alcohol Content 0 6.2%
Value +1
Appearance +1 (Fun label art, but I would like to have seen a better description of beer flavour)
Glassware
: There is no suitable glassware style for the American brown ale. The nonic pint or elongated tulip work nicely.
Food Pairings
: Rich and roasted foods are idea here. Usually this means BBQing any land based animal. A pulled pork sandwich or poutine would be ideal choices. Rich mushrooms would also compliment this beer nicely. The thought of
HUB's tofu Po Boy
is making my mouth water.
Cellar
: Don't you dare!