The Storm Watcher from VIB will be their winter rotation beer. It replaces the Beachcomber for Victoria's cold season. Hopefully this beer will not be overlooked, but I fear it might. In the winter there is always a plethora of big and bold releases: pumpkin beers, fresh hopped ales, barley wines and stouts. Hopefully this one is not lost in the rush of releases, because it is a nice little brew. I got my six pack early, but the Storm Watcher should hit the CBAW shelves Monday morning.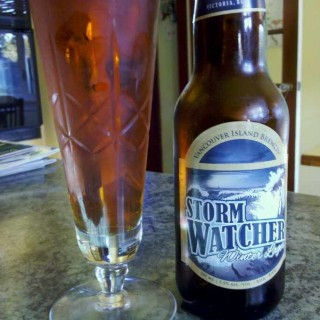 Storm Watcher Winter Lager = 6/10
This ruby red brew is nice to look at, even though there is no foamy head. Despite the lack of head, it still offers up hints of vanilla and caramel with little hop presence. A cool creaminess delivers lots of malts - think toffee, caramel, slight coffee, honey and biscuits. There is also a continuous presence of vanilla that is not overpowering. The ending is sweet, quenching and ever so slightly astringent. The storm watcher will appeal to beer drinkers who like their brews on the sweet side. This would pair perfectly with an unsmoked ham and cheese sandwich on rye. Perhaps a caramelized onion and mushroom cream sauce over buckwheat noodles. Maybe a desert of sticky toffee pudding would accentuate this lagers sweetness. Come to think of it, the Storm Watcher could be used to make a hot toddy. That would help to keep the winter chill away.
Taste +3
Aftertaste +1
Alcohol Content 0 5.5
Value +1
Appearance +1 (really nice artwork and a good description of flavour)
Other Wintery Reviews:
Red Racer Winter Warmer