Without any fanfare, Vancouver Island Brewery released the Black Betty Saison. Normally, there is a media blitz with contests, brewery tastings and samples for local bloggers. The saison is normally a dry, lemony brew with a pronounced noble hop bitterness. Hops flavours are greater than expected due to restrained malt body. A high attenuation yeast will do that. This is also one of those beers that people like to flavour, along with stouts, lambics, wheat ales and porters. I have this disdain for flavoured porters, perhaps it is because I like porters and few local breweries make an unflavoured one. In this blogger's opinion, fruit flavoured beers are patio fare. But blackberries are a late harvest berry, fall has come early and this beer tastes great so its timing can be over looked. [VIB just announced an open house Sat. Oct 5th from 1-4pm with samples of Black Betty and the returning Storm Watcher Winter Lager]
Black Betty Saison = 6/10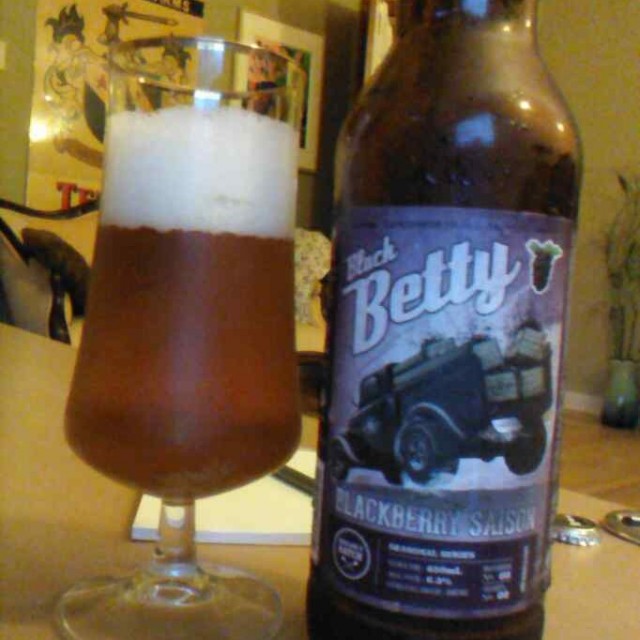 There is reason to be cautious about smelling a berry flavoured beer. Often the nose is unbearably sweet. Luckily this is not the case with Black Betty. It is pleasantly blackberry with a hint of spice. This beer is not overly carbonated and the medium-light body ends with a slight sweet berry linger. Black Betty's flavour is as described, a nice balance of berry sweetness, cracker malts with a hint of spicy yeast character. This is not a flavour powerhouse but just a nice brew.
Taste +3
Aftertaste +1
Alcohol Content 0 6.3%
Value +1
Appearance +1
Glassware
: Pick either a fluted Pilsener, elongated tulip or a white wine glass
Food Pairings
: Restrained enough to go with any meal. Would go nicely with a fruit flan desert. The berry flavours will resonate and the carbonation and alcohol will lighten the heavy creaminess of the flan. A good cheese option would be a chevre mixed with berries. Even better, put that goat cheese on a mixed greens salad and toss with a berry vinaigrette.
Cellar
: Nope, drink it fresh.