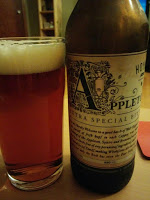 It is hard writing a blog. Yes, I know, boo hoo, you have to do research and drink beer. Then you get
to shoot your mouth off, figuratively, about what you think about this said beverage. Yes, yes you can feel my pain. Often in my blogs, I ponder food pairing options or try to give a little history. Then I think about whether this flavour is right for the style, what glassware is proper, are there any off flavours, etc, etc. The Appleton ESB halted this process very quickly. The current BJCP guidelines do not have an ESB category, it has been replaced by 11c Strong Bitter. Fullers has
trademarked
the term "ESB", which might have something to do with this change. Perhaps the Appleton has a little too much diacetyl and not enough hop character to really fit into this category, but that is beside the point. Flavours can be potent memory triggers of past events. The smell of pine can take you to a memorable Christmas where there was a freshly cut tree in the living room. Going to the movies can remind you of a certain place on the waterfront or a numbered pub. See, they are not always pleasant.
One sip of the Appleton pulled my memories to a recent trip to England. It took
me right here
.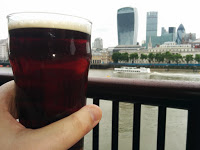 We were walking along the river Thames and stopped off at the pub for a pint and nachos. Actually it was two pints; they were low alcohol and I was gathering Untappd badges. Now that I look back, the Runner was much tastier this the Hoyne. Regardless, the memory recall was there. The pen and notepad were forgotten and the feet rested themselves on the coffee table. A long drink of bitter blurred realities, the room temperature cooled, nostrils filled with the stench that is the Thames and the vacation mindset returned. This brief interlude was quickly dissolved by the sound of my cat hacking up a hairball in the bathroom. Although brief, it was pleasant. This beer gets an 8.