A long time has passed since drinking a Phillips beer. Perhaps it is my pompous beer persona that has stopped me from drinking Victoria's most popular brewery's offerings. 'Perhaps' is not the right word.. 'certainly' seems more appropriate. The Amnesiac caught my eye and spoke to me. After standing in line - behind a guy with an armful of Corona light - I bought my beer and cycled home. How can they brew a Corona light? I hope that guy buys a lime, because he might mistake his beer for bottled water.
My current beer selection seems to take a back seat to the two current IPA showdown contenders: Fat Tug and Switchback. These two newcomers have shadowed Amnesiac's trend setting appearance. Certain Victoria beers drinkers have lamented about this Phillips product being hoppier in the past. I think the hoppy measuring stick has just been raised over the years.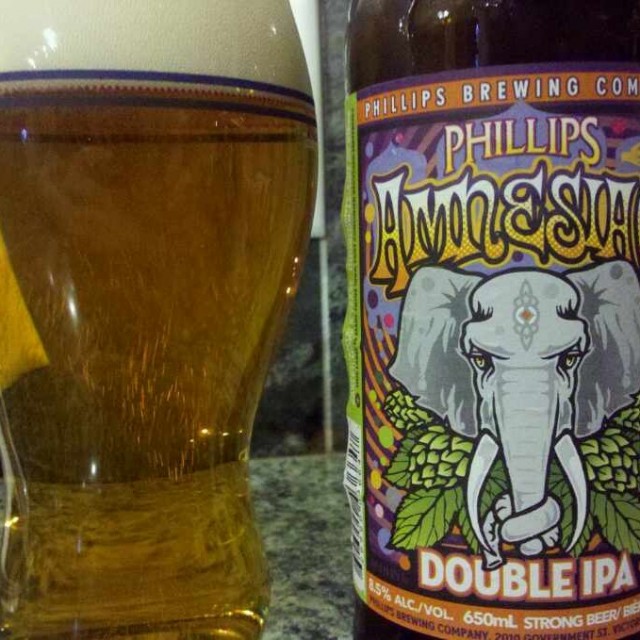 Phillips Amnesiac Imperial IPA = 9/10
The nose is like walking through a Christmas tree sales lots; fresh cut pine smells are everywhere. Trees yield to a creamy tingle of resin, tangerines and Five Alive juice. Amnesiac is a frighteningly easy drinking beer for 8.5% ABV. After the sip you are left with a long, and slightly astringent, memory of tangerine marmalade on whole wheat toast. I should make my tasting reviews longer; hiding my thesaurus might help.
Taste +4
Aftertaste +2
Alcohol Content +1 8.5%
Value +1
Appearance +1 always the best, and tongue in cheek, labeling
BrewDog Sink the Bismark
Central City Imperial IPA and Gary Lohin interview
BrewDog Hardcore IPA