This interview almost never happened. I was to met Dean McLeod, Head Brewer at Lighthouse, after work. I arrived first and sat on one side of Swans Pub. Dean arrived later and sat on the other. After twenty minutes my phone chirps. It's Dean:"Ian where are you? I'm thirtsty." Swans in not a very big pub, nor was it particularly busy. The amateur should be easy to pick out at this point.
After an apology, from me, we sit down to talk about this new brew: Tasman Ale. The idea for this beer came from fond memories of sampling low alcohol beers available in Australia during the 70's and 80's. Most of them were awful. Dean begins, "I wanted to create a light bodied, sessionable, easy drinking, dry, thirsty quenching beer that has flavour." He looks me in the eye and continues: "This is never going to be a beer bloggers will rave about. It is not the intention of it. It is a beer for home, standing around the BBQ with a bunch of mates."
I change the subject and ask Dean about his affinity for southern hemisphere hops. This is a pale ale made exclusively with southern hops that we might not have tasted before: Topaz, Summer Saaz, Motueka and Rakau. "I really in particular like New Zeleand hops because they are all spray free," he explains, "so most of the organic hops in the world come from New Zealand because it is very short leap to go from spray free to organic." North American brewers were first exposed to these hop varieties during the great hop shortage about five years ago because it was all they could get. Dean adds, "then they found out that they were actually really tasty."
So what did this beer blogger think about the Tasman Ale? I liked it. The use of southern hemisphere hops is very apparent; this is not your usual pale ale. The slight citrus hops are there, along with new flavours of tropical fruit and lime. This is balanced nicely with a soft bready and toasted maltiness. The sip ends clean with only the slightest lingering of sweet bread and mineral hop bitterness. No, this will not be a beer bloggers will rave about. However, if my hand plunges into an ice cold cooler of beer at a BBQ and finds a Tasman Ale, I will be very happy.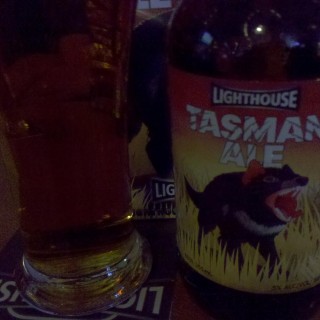 Lighthouse Tasman Ale = 6/10
Taste +3
Aftertaste +1
Alcohol Content 0 5%
Value +1
Appearance +1 (nice label art)