2013 was a great year for Victoria craft beer drinkers. I believe we had the most new releases to date. This year also saw a few great firsts. Tap takeovers were a regular occurrence in 2013; first started by Moon Under Water but later perfected by Spinnakers. So was the phenomenon of the guest tap in brew pubs. Also started by Moon Under Water but perfected by Spinnakers. All the brew pubs and breweries provide growler fills. Swans was the final holdout.
Do I have any predictions for 2014? Yes, I have a few:
1. We will have one or two new breweries in Victoria. There has been much talk about the four mile pub starting to brew, but there might be another.
2. There will be a new specialty beer bar opening with
Certified Cicerones
and Beer Servers on staff.
3. There will be a local collaboration brew this year.
4. One local beer release will be priced higher than $15.
5. Victoria will finally have its own
Craft Beer Week
, March 1st to 8th.
Now for the top ten beers of 2013 as chosen by me. Please note, I was unable to sample the Lighthouse Oyster Stout. Based on comments from friends, it would probably score a 9/10 and rank about third or fourth.
1.
Swan's Legacy Ale (Barley Wine)
=10/10
This was the last, local barley wine to be released in early 2013. It fell nicely between the almost undrinkable Old Cellar Dweller and the Drainwreck. Drinkable right away, it's earthy hops were very assertive but didn't overshadow the rich sherry and dark fruit malts. Well done Andrew.
2.
Belgian Black 2013 (Lighthouse)
=10/10
This was a new recipe from the original version and the taste differences were very apparent.
3.
Lustrum Sour Ale (Driftwood)
= 9/10
Five sour releases is a wonderful thing. This potent brew was aged in French oak with the addition of black currants
4.
Year One - Moon Under Water
= 9/10
A wheat wine with multiple yeasts added, how could this not taste delicious.
5.
Barnacle IPA (Lighthouse)
= 9/10
2013 was also the year of the wheat IPA. I thought that Lighthouse's was the best.
6.
Numbskull Imperial IPA (Lighthouse)
= 9/10
I felt this was an Australian barley wine, but no one else thought so.
7.
Lighthouse 15th
= 9/10
A double Race Rocks? Yes please. Maybe this year we will be blessed with a double Keepers?
8.
Saturnalia Gruit (Salt Spring Island)
= 8/10
This very herbal tasting beer was just stellar and completely different from all other releases.
9.
Shatterbier (Moon Under Water)
= 8/10
Coffee is usually an addition to stouts, putting it in a golden ale was a risky move that tasted great.
10.
Black Jackal (Phillips)
= 8/10
A delicious imperial coffee stout.
Many other beers scored 8/10 in 2013 and are listed below.
Kaleidoscope Mosaic IPA (Phillips)
The Heretic tripel (Driftwood)
3 Weeds (Lighthouse)
Clodhopper Dubbel (Driftwood)
Rum Barrel Aged Red Ale (Phillips)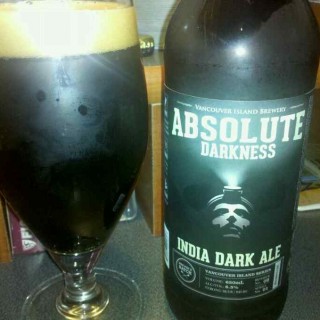 Creme Brulee Vanilla Stout (Salt Spring Island)
Twenty Pounder DIPA (Driftwood)
Finally an honourable mention for best label art goes to:
Absolute Darkness (Vancouver Island)
A very simple and elegant label that glowed in the dark. Also a nice tie-in to the
Horne Lake
caves.
If you felt I didn't mention your favourite beer, feel free to leave comments below. Thank you all for reading.