Last time I did
not like
this release, it was almost too painful to drink. Hops are awesome and all, but you do not need to overwhelm us. Yes, there are a whole crap load of hops in here. This time it seems almost palatable. I will be brief, I have a few reviews to finish tonight.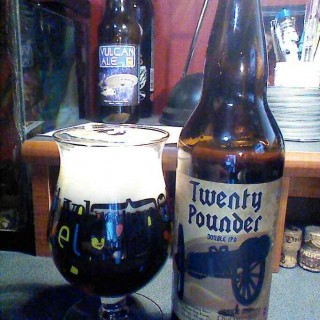 Twenty Pounder = 8/10
The hop presence is unmistakable. It's nose reveals almost every PNW hop aroma you can fathom; I picked up on the pine, resin and pomelos. Is it possible to smell with your tongue? Your tongue senses the hop flavours before they arrive. The heavy bready, malt base provides ample sweetness to deliver this burning hop wash to your stomach. I might go and grab a TUMS. This might sound unflavourable, but in actuality it is not. The drinkability of this double digit IBU beverage is surprising. Your tongue never really loses its sweet citrus coating/numbing. This might do well with a bit of aging.
Taste +3
Aftertaste +2
Alcohol Content +1 9%
Value
+1 (

barely)
Appearance +1 always great art