The first time I tasted this beer, I was seated on the floor of
Eskimodave
's apartment. No this was not some sort of beer cult worshiping. Dave didn't have enough chairs and I don't have an aversion to sitting on the ground. Dean passed around this bottle for the beer geeks to try. We were all astounded. It was delicious, fresh and an emerging style of beer. A wheat IPA?! It tasted great, but it will never catch on.
Currently, two wheat IPA releases have come through Victoria. I believe VIB struck first with the
Flying Tanker
. This brew will be returning in summer, as it is a hybrid of the currently available
Beachcomber Ale
. Phillips followed with the
Electric Unicorn
. Perhaps they were both following the
Belgian White
by Lighthouse. Regardless, I digress. What do you get when you cross a familiar hop profile with added wheat malts? Two words: awesome! Wait for it, the bomber release of the Barnacle IPA is very soon.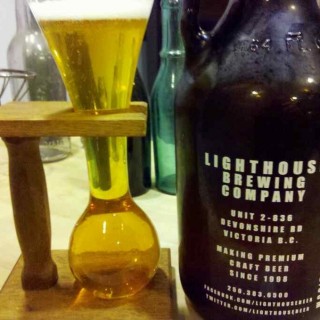 Barnacle IPA (Lighthouse) = 9/10
The nose is familiar to everyone who likes to switch up their favourite beer. There is something else: cream of wheat. Tropical fruit aroma is still a major player but it is tempered with the creaminess that only wheat can provide. Gone is the gripping hop IPA bite, replaced by the creamy smooth southern half hop linger. Is this a hop showcase powerhouse: no. But it is something that will draw you in sip after sip.
I was recently
asked about
appropriate glassware selection: fricken
Cicerones
. I chose the quarter or 1/8 yard beer glass. This is the
signature glass
by Kwak. This is not correct glassware selection, but I found two of these glasses at a thrift store for $4! I had to show them off. What about food pairings? Perhaps a breaded sea bass with a fresh lemon squeeze. For the vegans out there: try a quinoa salad with arugula, Mandarin oranges and pine nuts. To make my
neighbour
happy, try it with the pulled pork poutine and corn bread.
I am really, really trying hard to hold it together. Dean promised me a growler of their upcoming maibock release, so I am emptying my growler of Barnacle IPA. Despite what you all think, I don't really drink a lot of beer. When I drink; I drink well. So a maibock? I love
bocks
: strong lagers are where it's at. There are currently no bright, spring time patio bocks. Unless you wanna suck back a
Holsten
big boy can. I sense a lack of cohesion, so ..good night.
Taste +4
Aftertaste +2
Alcohol Content +1 8%
Value +1
Appearance +1 (mine is a growler, which is awesome)