I love stealth marketing. This beer just appeared before my eyes in some backwater CBAW. It wasn't really backwater, just
Maude Hunters
.This bottle was wedged next to all the releases you thought were sold out like
Bird of Prey
,
Road Trip
and
Old Cellar Dweller
. They even had a cask of
Russell brewing
on the bar. There was only a minor mention of this on the specials chalk board. My server never even mentioned it. Too bad, I would have liked to try it.
Anyways back to the beer. The farmhouse/saison style beer is a style where almost anything is appropriate. As long as you use some wheat and an appropriate yeast, things are good. Between fits of coughing, Dean elaborated on this beer, "[it was] brewered as a saison with as many bakery ingredients as we could through at it, including huge tubs of of rye sourdough starter made for us by Byron Fry. Sweet and a touch sour with a little rye spiciness, this one's for more general audience than a truly sour or bretty beer would be." Collaberations are great, especially with other craft food vendors like
Fry's Red Wheat Bread
. A beer with a sourdough starter and rye? What did this beer prick think?
Sauerteig = 8/10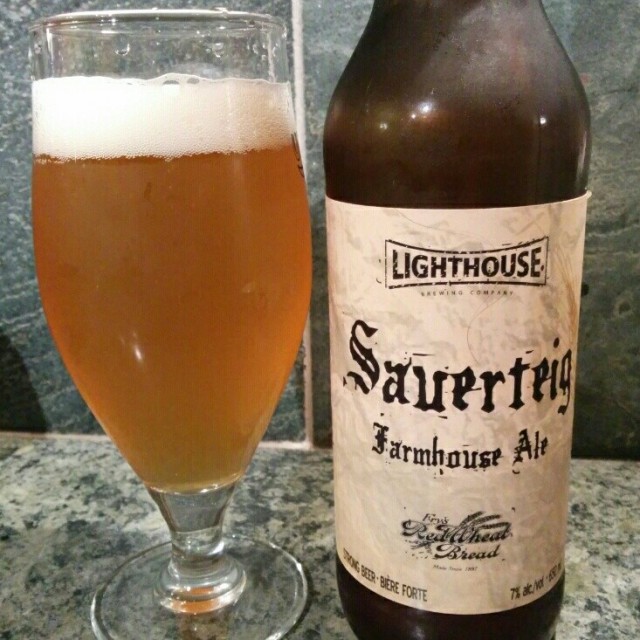 You could tell there was some funky yeast action with the barnyard smell and the multitude of little bubbles that comprised the head. The nose also presented hints of athletes foot, wheat, peppery rye and lemons. My first impression of the sip was that this tastes rather like a Berliner Weisse. I tried to homebrew a Berliner Weisse once. The sauerteig tastes way better than my homebrew. Each sip is juicy and sweet with lemons, sourdough bread and Seville oranges. The ending gives a dry finish that speaks of rye. Did I mention the tart barnyard sourness that carries all the way through? It was not a mouth puckering sour; Mrs. Left4beer called it a beginner sour. Not an overly complex beer, but interesting enough to keep you coming back.
Taste +4
Aftertaste +1
Alcohol Content +1 7%ABV
Value +1
Appearance +1 (Boring label but good description of beer. Would have been nice if QR code linked to more information about beer)
Glassware
: Tulip.
Food Pairings
: I really wish there was some wash rind cheese in the fridge. A pasta with tonnes of pecorino cheese would be great.
Cellar
: nope. Sour character might develop more.