At first I thought this was not actually a real beer style. I was mistaken, it is according to the Brewers Associations
beer style guidelines
. The description does sound overly vague though. But Dean at Lighthouse was never one to dwell upon style. He once said to me, "We should embrace the inherent variation that exists within beer and discard the dogma of rigid styles and categories. Truly great beers transcend these boundaries and are as sublime as they are fleeting." This poetic quote has always stuck with me. Mostly with help from Google mail search. But I should get on with my review as the bottle is almost gone: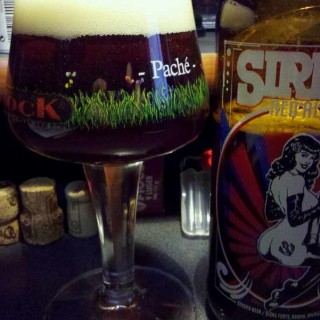 Siren Imperial Red Ale = 11/10
The hop smell became apparent right after the bottle cap hit the desk. Centennial, sometimes you are my only friend. Your citrus peels are almost as spicy as the label. Image the label as
Old Milwaukee
afterdark. Is it hoppy? Dang right it is. Is it balanced? Barely: the caramel, bready and bruised apricot malts and barely holding it together. Maintain focus, right. The subdued floral and assertive grapefruit/pomelo citrus hops floated over the toasted bready malts. It's linger was as long as a cat's tail in a room full of rocking chairs. Your only thought will be: more hops! Astringent? Oddly not. Will the beer cellar well? Absolutely! Just make sure you tweet your vacation plans so I can plan my midnight excursions. Are you sure this beer is only 8%ABV/6.4% ABW? Well done. Hopheads stock up.
Taste +6/5 You don't like my score? Get your own blog!
Aftertaste +2
Alcohol Content +1 8%
Value +1 GREAT
Appearance +1 Nice and tasteful label art. Even the Misses approved. Also a flavour description that matches the beer