This is like Deja Vu. At the end of last year, there were tonnes of new releases. It was hard to keep up. Luckily there are many options for Victoria beer drinkers to enjoy. I only had space in my backpack for one beer tonight: Puzzler by Phillips and Great Lakes Brewery. Not to be confused with Great Lakes Brewing in Cleveland, OH, of the
Edmund Fitzgerald Porter
fame. The Toronto based Great Lakes makes the
Devil's Pale Ale
. The last year GCBF mashup was with Garrison's; they attempted a
Baltic porter
. This year it's the Puzzler Belgian Black IPA.So what does it taste like?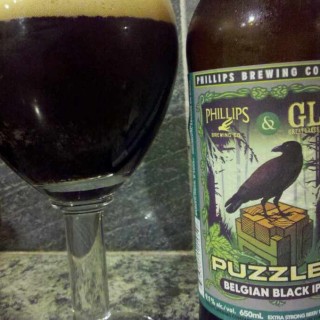 Puzzler = 6/10
This is a typical Phillips hop bomb; so it will be well liked. There is a little voice in my left ear saying, "Remove your bias, ignore the label. What would you say about it now?" Before you attempt to medicate me, the voices were from my spouse at the other end of the couch. This is a hop bomb from the moment you crack the seal; floral and citrus ooze everywhere. Massive aromas of floral and miscellaneous citrus cloud all other nasal intrusions. Maybe a bit of chocolate.. perhaps roasted coffee..maybe some spices.. Each sip reveals little else; tonnes of hops with enveloping astringency. Don't get me wrong, being from the PNW, I love a good hop bomb. The label eludes to flavours of Belgian yeasts, I'm not getting it. Aging might lesson the hops, but that space should be saved for something else. Perhaps a slightly more spicy
Skookum
? I'm going to have to use steel wool to remove the hop resins from this glass.
Taste +2
Aftertaste +2
Alcohol Content +1 9.1%
Value 0
Appearance +1 great art and description of beer taste