Have you ever opened something that was not what you were expecting. Imagine a present wrapped up under the Christmas tree; it looks like a hockey stick. Sweet! A new hockey stick for Christmas day road hockey. Your excitement grows the more you look at this stick. Christmas morning arrives and your rush downstairs to check the flex on your new Easton. Shredded wrapping paper flies to reveal ... a golf club?
I think people were expecting another
Flanders red Bird of Prey
; a brew that could suck your eyeballs in. I honestly thought Driftwood has nuts to release a Flanders red. This is not an approachable beer. Oud bruins are generally less sour than the Flanders red. This lack of overt sourness and more malty makes them a little easier on the palate.
That year I cried when sampling the Bird of Prey: it was gloriously sour and it aged well. Beer geeks were pleased to have another cellarable beer. The Misses didn't like it - too sour. This year the Misses loved the Mad Bruin. It was fruitier, complex and not too sour. Again I cried. I wanted something with more face twisting sourness. After finishing off a box of tissues, I reflected: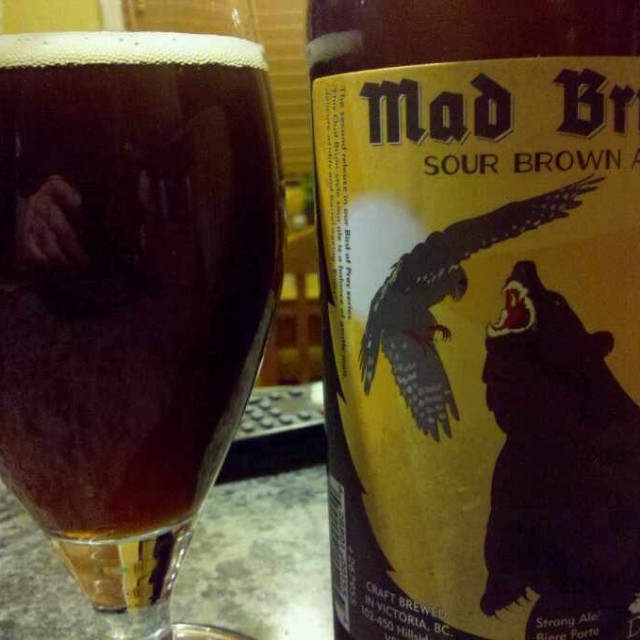 Mad Bruin = 8/10
The slight addition of tears to the glass released the nose. It was tart- yet sweet - with predictions of sourness, root beer and wood vanilla. This was not a face puller. I did long for another sip. It was tart and dry, almost cider like. Except this cider carried wood hints, vanilla, plums and miscellaneous sour fruits. The ending was dry, short and left an impression of fruity balsamic vinegar. Delicious and sessionable sour. Cellaring a few might be in order.
Taste +4
Aftertaste +1
Alcohol Content +1 7%
Value +1
Appearance +1 (great label and perfect description of the beer's flavour)