This is great! Two of my favourite things together: coffee and beer. If there was only a donut beer I would be a very happy blogger.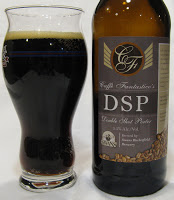 Swan's Double Shot Porter = 7/10
From the nose you know this beer should not be consumed before bedtime. It is heavy with dry coffee grounds with a little chocolate to increase the
xanthine
aromas. A full mouthfeel of French press coffee emits enough vapours to actually raise your eylids. The lightly added bittersweet chocolate give a nice astringency. A dry and powdery linger of coffee and cocoa remind you that you want another sip.
Taste +4
Aftertaste +1
Alcohol Content 0 5.5%
Value +1
Appearance +1