I have learned a lot from my little girl. Rarely do my reviews start with fatherly wisdom crap, but I will have a point soon. One day, my little girl's classmates were sitting around their teacher talking about what they liked, and disliked, about school. The usual opinions came up: I like storytime, I hate math, I like recess and so on. All the little ones adamantly agreed that they liked recess and lunch break the best. That is until my girl raised her hand and said that she did not like recess.
The teacher was puzzled and asked why? It was hard to find my classmates on the busy playground, my little one mentioned. Slowly, other hands went up. Her fellow classmates had the same issue with this (supposed) unanimously fun event. The teacher was puzzled, but worked out a solution to help them find each other on the playground.
I am getting closer to my point - pinky-promise. At a CAMRA beer judging event, I was seated with two elder statesmen of the Victoria craft beer scene. After a respectful kowtow, I quietly sat down and awaited the first beer to judge.
It arrived and was sampled by all of us. They talked about the interesting flavours of the beer, it's richness, complexity and how it was a good example of the style. My sip gave me pause; this beer was clearly infected and tasted like crap. A moment of doubt was focused on my palate. Then I remembered my brave little daughter. Out of my mouth blurted the words,"Yuck! This beer is off. Can you not taste the vinegar?" The honourable others were perplexed, but took another sip. They too agreed with my opinions of this beer and proceeded to document their ill findings.
This brings me to the review of the new beer my Salt Spring Island Harvest Moon ESB.
Harvest Moon ESB = -2/10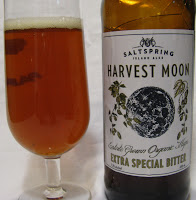 Perhaps I got a bad bottle, but others have confirmed my thoughts from other bottles in different cities. This beer is bad. I hate to say anything bad about anybody, but I gotta tell it like it is. The aroma comes across with hints of vegetal (DMS) and caramel. It is actually boardering on butterscotch. A medium to full mouthfeel was oddly creamy and slick for an ESB. Perhaps I had not tasted an ESB in a while. Nope, I had sampled a
Fuller's ESB
at Clive's Lounge earlier that evening. BTW the Fuller's is absolutely delicious. Each sip was disappointing, this was not an ESB. There was no rich fruit/berry flavours. Nor was there any nuttiness nor caramel aromas. It actually tasted like a plain golden ale, except the vegetal and butterscotch ruined it. There was also no hop presence to speak of. Half the bottle was dumped down the drain. Perhaps the bottle should have been returned to the store; I'm not confrontational enough. It is not as though I have not tasted an ESB in my life.
Boundary Bay ESB
,
Naughty Hildegard
, and
Anderson Valley ESB
share no similarity to this beer. I`m sorry, but I didn`t like it.
Taste -2
Aftertaste 0
Alcohol Content 0 5.2%
Value -1
Appearance +1 (nice label with good description)