Roadtrip Day 1 - Astoria, Oregon
After a quick visit with US border guards, it was on the road to Astoria, Oregon. There was a brief stop at my top-secret Haggen grocery store in Ferndale for some great craft beer. Ummm I guess it is not a secret anymore; at least I didn't tell you it was off exit 262.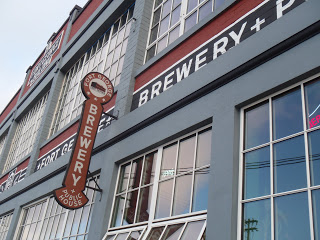 For those who have never been to
Astoria
, this place is cute. I'm not an expert on architecture, but the downtown core was built in the 1920's. It has the certain look; American colonial? Anyways... very nice, but we were here for the beer. First stop: Fort George Brewery.
There were 10 beers on tap (2 seasonals), a wasabi ginger ale and two guest taps. This a lot to review in beer prick style, so I shall say all the
beers
were either good or stellar. Of particular note was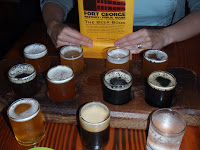 the Spruce Budd ale. "We get a lot of bad reviews on this beer. People just don't get it", brewer Chris Nemlowill laments. It's an unhopped beer with only the spruce used for bittering. The nose is very floral with lavender, dry mustard and violet candies from Harrods. Many judge a brewery by its IPA; the Vortex was impressive. At 97 IBUs, this dark amber brew delivered every PNW hop flavour in abundance.
One of their guest taps was
Armored Fist
by Boneyard Brewing. This collaboration with Three Floyds was the best Cascadian dark ale I have ever tasted. All flavours and aromas were massive: grapefruit, floral, roast, bittersweet chocolate and pine-sol.
Next stop was the
Astoria Brewing
company at the Wet Dog Cafe. The first warning sign w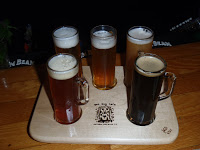 as the lack of people in the place. After being told that we could sit wherever we wanted, the staff asked us to sit at the bar. So we politely moved from the beautiful view of the water to a view of whining wanna-be hipsters. Things went from bad to worse; every beer was either unremarkable or bad. Their 'Kolsch' style tasted like a cob salad and the Belgian style reminded me of apricot vomit. As the father of a vegetarian baby I know what apricot vomit smells like. The porter was nice, dry with ash and roasted coffee. It is really hard to @#$% up a porter; roasted flavours hide a multitude of sins. We left most of the beer on the bar and returned to Fort George.
Day 2 may involve a visit to the Rogue Ale house in Astoria and a long drive to Portland