I never like giving bad reviews. This review almost never left my desk, but then I thought of what my beer friends would say. It was some kitten poster saying like "tell it like it is", "believe in your palate" and "you have a duty". So, here it goes.
Not every beer is perfect. Sometimes brewers must take a chance and brew up something new. This is where the Hopscotch Scottich IPA steps in. It is touted as a Scottish IPA: a malty, caramelized brew with super galena hops. The super galena is a very high alpha/beta acid hop variety. This sounded really good in theory, but somewhere, things went wrong. What do I know, people on
Untappd
gave it 3.5 stars. However the word "interesting" shows up a lot with the experienced reviewers.
Hopscotch IPA = -2/10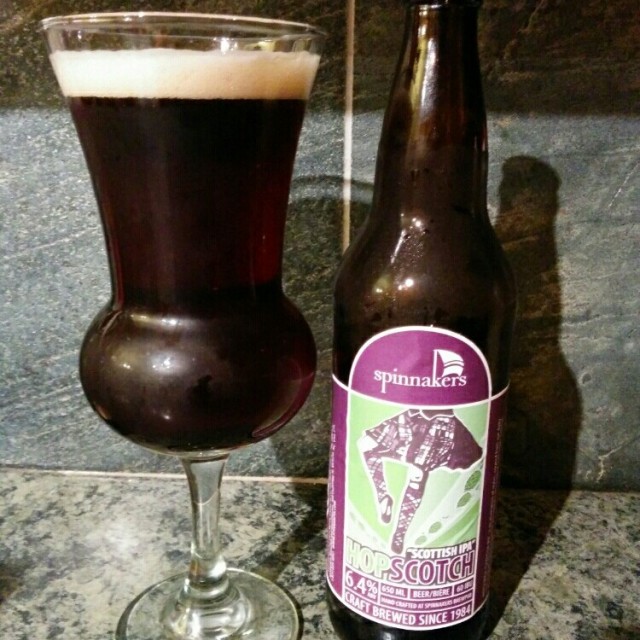 The nose presented benign enough, only the faintest whiff of earthiness and caramel. Things started
off great, the earthy sweetness mixed with bready malts and a vague hop bitterness. Caramel was oddly absent, which is usual for a Scottish ale, but acceptable. Then came the wicked aftertaste: massive, tongue scraping slickness. Could this be a diacetyl bomb? Scottish strong ale do have some diacetyl, but not this much. Perhaps it was overenthusiastic use of a very bitter hop? Hard to tell. Mrs Left4beer made me dump it out because I just kept tasting it; trying to figure out what the off flavour was. Perhaps I got a bad bottle, if so, I wasn't the only one.
Taste +1
Aftertaste -2
Alcohol Content 0 6.4%
Value -1
Appearance 0
Glassware
: Traditionally the difficult to find Scottish thistle glass. A pint glass or tulip would do in a pinch.
There must always be balance. Which is why the next beer has a good review. The strong Scottish Ale or "Wee Heavy" can be a thing of beauty. Rich and malty, with ample peat and dark fruit flavours. The Keg Tosser did not disappoint.
Keg Tosser = 8/10
Read the BJCP guidelines for 9E, Strong Scottish Ale, and it is all there. Deep malty nose with caramel, peat and mild fruit esters. Tick. A full and chewy sip delivers new tastes each time. with the first gulp, flavours of caramel, vanilla and peat rise up. Next time, you could be graced with dark fruits, plums or even pecans. Throughout it all there is a firm boozy sweetness to keep you focused. Excellent.
Taste +4
Aftertaste +1
Alcohol Content +1 8%
Value +1
Appearance +1 (I like the new label graphics)
Glassware
: Traditionally the difficult to find Scottish thistle glass. A pint glass or tulip would do in a pinch.
Food Pairings
: Contrast with beers sweetness with something sour. Perhaps a lemon/lime fish fillet or a grilled cheese and sauerkraut sandwich. Or use its sweet characteristic to calm spicy Thai food
Cellar
: Generally not. But it would be a fun experiment. The malt flavours are complex and enough ABV to keep things safe.
I alluded to there being a third. If you are still reading, the Ogden Porter is an old recipe but still a good beer.
Ogden Porter = 6/10
Brown porters tend to be one of the calmer beers. The Ogden nose was a mild, but prepared you for the roasted and fruity flavours to come. Each sip was a simple and linear presentation of mild coffee, chocolate, blackberries and roasted whole wheat bread. Nothing overly harsh or outstanding anywhere. Some might overlook this beer with all the uber IPAs and imperial what-nots on the menu. This is sad, because the world needs serene, simple beverages.
Taste +3
Aftertaste +1
Alcohol Content 0 5.5%ABV
Value +1
Appearance +1 (always better at the source)
Glassware
: Straight up pint glass.
Food Pairings
: Nothing overly flavourful. I'm thinking of a grilled cheese sandwich. Actually, this might work with a peanut butter and nutella sandwich. Focus on mild roasted and slightly sweet flavours. A mild cheddar and hazelnut soup just popped into my mind.
Cellar
: Nope.