I have been a little lazy with beer reviews. Luckily there have not been too many. Other good beers this week include the Lighthouse Strath 100 and Phillips Barrel Aged Rauch.
This is the latest beer release by Spinnakers. Did have one little peeve with my experience at Spinnakers. I brought my growler in for a fill of the Irish Stout. It was on the draft list, but not on the growler fill list so the nice lady behind the counter said I couldn't get any. If only she mentioned that I had to walk upstairs to get my fill of Irish Stout, I would have been a happy blogger. This was partially my fault, because it is mentioned in the email newsletter Spinnakers sends out. I always forget to read the fine print. Anyways back to the beer.
We need more
rye in beer
. It adds a great dry, grainy and spicy character. This ingredient is also helpful in head formation. Rye is unfairly considered an adjunct in brewing, just like corn, sugar, caramel, potatoes and spices. Basically if it is not malted barley, it is considered an adjunct. Which I think is unfair. Imagine lumping rye and oats together with corn syrup? Let's instead call it a superawesome unappreciated brewing grain, or SUBG for brevity. Enough ranting, how was the beer?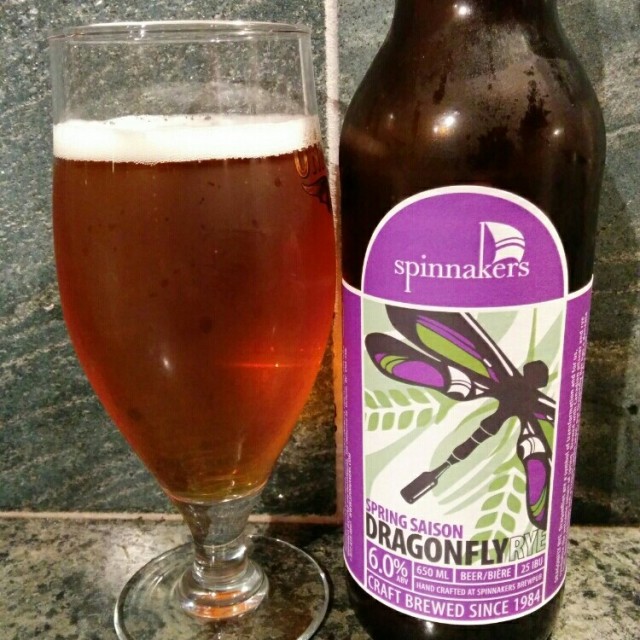 Dragonfly Rye Saison =7/10
The initial aroma announces rye with its characteristic grainy and spicy scent. This blended nicely with the spices from the saison yeast. Each sip is creamy with that rye spice, slightly juicy with minor earthy hops. The rye does dominate the flavour but doesn't overpower. It brings out the flight fruitiness and lingers just longer enough. Very nice.
Taste +4
Aftertaste +1
Alcohol Content 0 6%
Value +1
Appearance +1
Glassware
: Tulip or my favourite slightly bowled pokal
Food Pairings
: This would be nice with Thai food. The spicy characters would blend nicely. A nice Welsh rarebit with rye bread and sharp cheddar would resonate with saison's flavours.
Cellar
: Nope, drink it fresh