I am really far behind in my posts, this beer was released in January. The name eludes to the flavours and it also has a great label. Correct me if I am wrong, but is this the first Brett conditioned beer to be released in Victoria? If so, props to Clay for releasing a brave new beer. If not, just props anyways for a great beer.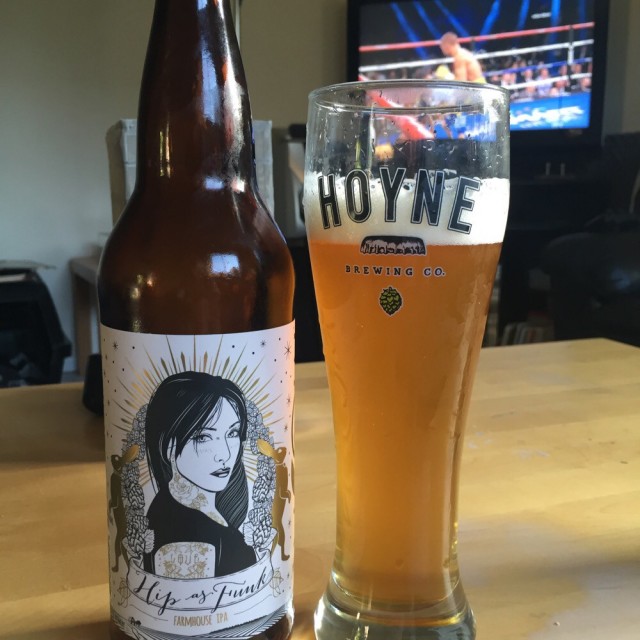 Hip as Funk = 7/10
The nose is all brett with nostril tingles of wood pile and wool gloves. It is a pleasantly tart and acrid sip that might be categorized as medium in body. To balance the tartness is a light pit fruit sweetness that encompasses apricots, dried pears, peaches and horse blanket. Sadly all these great flavours just end. It is has an oddly clean ending for an initially funky beer.
Taste +4
Aftertaste 0 (it just ends)
Alcohol Content +1 7%
Value +1
Appearance +1 (great label)
Glassware
: I would prefer a tulip, but my buddy Brian has chosen a hefe style. Which is fine due to abundant head produced.
Food Pairings
: Pairing with sour beers is a challange, but pick something on the light side. A good idea might be a grilled ham and a funky brie cheese. The high carbonation of dryness would work well to remove fatty or spicy tastes from the tongue; hello Pad Thai! A spicy sausage hoagie would be a good choice.
Cellar
: The brett yeast might produce some interesting changes with the residual sugar. Might be worth it.