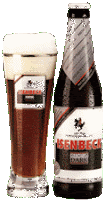 Isenbeck Dark
Dunkel
Ratebeer
2.53 16th percentile
Beer Advocate
B
I tried this brew on tap at
Passeros
Greek restaurant in Victoria. Not certain why a Greek restaurant had a German beer on tap. BTW the food was excellent with a large selection of vegetarian options. The place was full of regulars and the waiter knew almost everyone by name.
Taste +2
It is a standard dark Euro lager. The nose is faint of roast, dark malts and fermented fruits. The nice and fizzy brew delivers the required light milk chocolate and roast. I liked the silky mouthfeel; but then again who doesn't.
Aftertaste 0
It had an odd menthol coolness at the end. The barest of hop bite upon exit. There was maybe a bit of light caramel and toffee too.
Alcohol Content -1 4.8%
Value 0
It was good but not overly flavourful.
Ingame Enhancement 0
No gaming tonight, but I did go and see The Princess and the Frog. It was a good, old fashion Disney with simple animation, singing and dancing. One of the main characters bites it in the end thought.
Overall 1/10
It was decent dunkel beer; sweet and malty were the main flavours. Nothing really exciting.
Baron Bohemian
Warsteiner Dunkel
Dunkel Weiss (Great Divide)