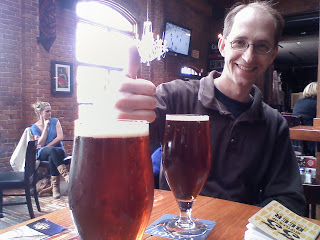 Canoe Club Bavarian Copper Bock
Ratebeer
3.11 42nd percentile
Beer Advocate
A- (2 reviews)
Taste +3
The nose carried a good dose of caramel, toasted malts and slightly floral hops. Each sip was the same as the nose suggested; a malt forward beer with toast and hints of citrus and floral hops. There was a bit of vegetal in there to add some medium body.
Aftertaste 0
It finished clean and dry, with maybe a little green apple left over.
Alcohol Content +1 6.3%
You could not tell; there was little alcohol presence or warmth.
Value 0
It was nice, but I would not buy a bottle to bring home.
Ingame Enhancement +1
Meterman and I were out to rip up the town. We partied hard but were at home and in bed by our wife imposed 10pm curfew.
Overall 5/10
The Bavarian bock was caramel/toasted malt forward with just enough floral and citrus hops to keep the sweetness from running away. This is good restaurant beer; flavourful, not overly challenging but will appeal to the masses.
Hermannator Ice Bock and Zombie Wedgies
Winterbier Doppelback and Hops can save my prostate
Phillips Springbock