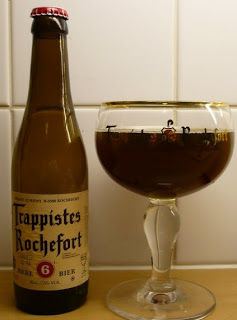 Trappistes Rochefort 6
Ratebeer
3.77 97th percentile
Beer Advocate
A-

Taste +5
Any bottle that reads Rochefort is golden. This is the lightest of the Rochefort numbers and the nose reflects it. There are sweet fruits, rock candy and slight hints of cherries. Every sip delivers a creaminess composed of light nuts, pale fruits which is slightly dry. At the end you are graced with a snap of tartness like sultan raisins.
Aftertaste +1
The slightly dry, tart and fruit sweetness doesn't last too long.
Alcohol Content +1 7.5%
Value +1
Golden, pure golden.
Ingame Enhancement +1
No gaming tonight, just drinking great beer. Yes, I am artificially inflating the score.
Overall 9/10
A strong, light Belgian ale the way it should be; it was sweet, fruity with no yeast.
Rochefort 10
Rochefort 8
Chimay Blue