Flavius: EPI-PEN, EPI-PEN I need my adrenaline shot!!
Meterman: For noobs sake, what now?
F: I'm having an anaphylactic reaction to this beer. I'm sweating, having difficulty breathing and I'm blacking out.
M: It is true that anaphylactic type reactions have occurred after the
consumption
of beer, but this is not your problem. You have fallen out of your chair and your fat cat is sitting on your face.
F: Oh, that explains the sensation of the furry tongue.
Pliny the Elder
Ratebeer
4.22
100th percentile
Beer Advocate
A+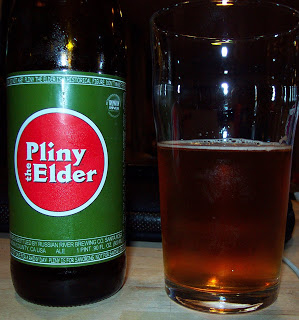 I picked this beer up in Seattle because it was mentioned as one of the
top 50 beers
according to Ratebeer.com.
Taste +5
This is exceptionally smooth for a double IPA. The smell is as expected fresh pine, with light citrus (grapefruit/orange) hop and vanilla. Right at the start the hops bite you with pineapple and grass. The caramel/biscuit malt follows smoothly thereafter. At the end the hops revisit, but they are not very resiny. It is more a creamy citrus with light pine. This is one smooth brew.
Aftertaste +1
The fade is slow with lingering tastes of vanilla and grapefruit/pineapple.
Alcohol Content +1 8%
Value +1
This brew is glorious, I plan to sample when I return.
Ingame Enhancement +1
We finally finished Mercy on expert mode. It was odd that they old guys didn't die once.
Overall 9/10 BOOM AQUAHEADSHOT
The accolades are well deserved. This is a very balanced and smooth double IPA. It is hard for a double IPA to be smooth, but this one has done it well.
Damnation and Conspiracies
Racer 5 IPA and the Bailout
Green Flash Imperial IPA