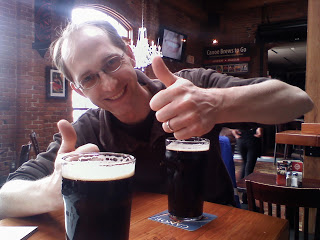 Beaver Brown Ale (Canoe Club)
Ratebeer
3.32 75th percentile
Beer Advocate
B+
Taste +2
Enjoyed on tap at the
Canoe Club Pub
. The roast nose was above average but there was a bit of vegetal in there. It was malty forward with a slight fruitiness. The taste was the same as you would expect from the nose. It has a light to medium mouthfeel and slightly creamy. I thought it was a bit thin.
Aftertaste 0
Very clean finish with just a hint of roasted malts.
Alcohol Content 0 5.6%
Value 0
I did taste nice and fresh, but as it warmed up more of the vegetal came forward.
Ingame Enhancement +1
Had over dinner with my main man Geoff (note happy person in the photo). This pub has great food and solid beers.
Overall 3/10
It was a good malt forward beer, roasted and easy to drink. I would have scored higher if the vegetal was not present.
Howe Sound Nut Brown