I am sooo far behind in my beer reviews. I am not even close to choosing my top ten beers of 2012! It will be a long few weeks; please don't let there be any more Victoria beer releases. Enough self-indulgent first world problems. This beer was Phillips Breweries choice of beer to brew from the winners at the
CAMRA 2012 homebrew
contest. Eric won first place in the American Ales category. Quite the honour; but how does it taste?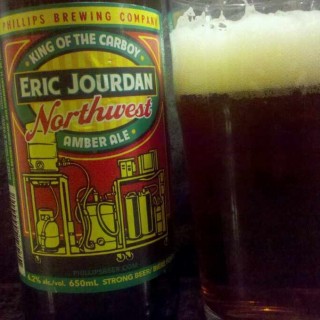 Eric Jourdan Northwest Amber Ale = 9/10
If I judged this beer at that BCJP contest, it would not score high. Ambers are not usually this hoppy. But for enjoyment and drinkability; it scores top marks. It delivers everything a hophead wants: juicy citrus, floral, hints of pine and an abundance of caramel malts. Each sip was full and creamy, yet satisfyingly astringent. The NW amber ale was hop forward with a massive mixture citrus hop punch, backed up with creamy and toasted bready malts. A long, smooth finish left a sweet citrus astringency.
Taste +4
Aftertaste +2
Alcohol Content +1 6.2%
Value +1 this was nice
Appearance +1 nice label art with fairly good indication of beer taste