So I made it my mission to try every Victoria release this year. This was not an easy task; it was a great year for Victoria's beer geeks. Some releases I never bothered blogging, most of them I
tweeted
or
Untappd
. This is the case with Phillips Instigator 2012, not worth mentioning. The only thing worse you can spend $8 on is a parking ticket.
Now we come to the Trainwreck. I remember the days when a pre-2010 Phillips barley wine was something to look forward to. The same can be said for the
Instigator
and the Double Dragon. What I wouldn't give for a
2008 Double Dragon
! 2011 was the year I started skipping Phillips regular seasonals. Even the freeze distilled 2011 barley wine (
Mass Extinction
) was tasteless. This years edition was aged in bourbon barrels. So what does the #yyj beer geek think.
Trainwreck Barrel Aged Barley Wine 2012 =

7

/10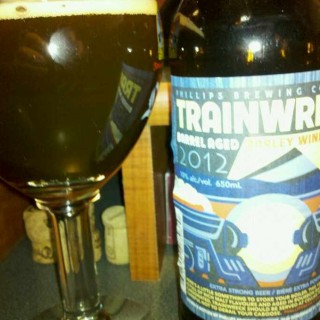 I can already hear the shouts of "WTF are you talking about?" Hear me out. This is a very approachable barley wine. The nose is calm with sweet vanilla and caramel. Maybe there is a bit of cheap Alberta vodka and nailpolish in the nose - but we are not going to mention that. People will be drinking this cold. The body is not insinuatingly bold nor painful to ingest. Perhaps I am alluding to another local barley wine that is not for the faint of heart. Every sip exhibits a nice barrel aged blot. Sweet vanilla, bourbon, rum and wood chips is what you will get. This ravels nicely with the caramel malts and earthy hops. Yes, it is a tad thin and overly boozy (especially at room temperature). Not everyone has the patience to sit on a bottle of barley wine for a year until it is ready to drink. This facts becomes painfully apparent as I stare at a bottle of Mill St. barley wine and ponder, "When?" It reminds me of an Innis and Gunn turned up to 11; or else with a depth charge of Grey Goose. Cellarable? Not likely, the alcohols are not fusel and all ethyl. In some communities you must build. Perhaps after tasting this barley wine; people next year will branch out and try others. I think the only ones who buy OCD are myself and my beer prick friends. You always find old vintages of OCD mysterious appearing at cold beer and wine stores.
Perhaps this review was influenced by recent events; last week I interviewed Matt Phillips. Albeit was for only 3 minutes and 12 seconds. But the man I met was passionate about craft beer and knowledgeable about flavour and taste sensations. I was very furtive and never mentioned who I was. We chatted and I asked stupid, opened ended questions. He gave vague but intelligent answers. It changed by perception of Phillips. It makes me wonder if the vision in his mind hits the bottles on the shelf. Who knows? Whenever I see a bottle of Analogue 78 on the shelf, I must remind myself: people are drinking local, craft beer.
Taste +3
Aftertaste +1
Alcohol Content +1
Value +1
Appearance +1 Lots of
big people
love the label also.
Blasts from the past:
OCD 2009
Old Fat Cat Barley Wine 2009
2010 Battle of Victoria's Barley Wines