It might be a little late in the season for a barley wine. Barley wines invoke images of cold evenings curled up next to a crackling fire while reading Chaucer. In my demented world, barley wines are enjoyed while feeling the warmth of an overclocked GPU while playing online video games. Does pwning some person named Chaucerdude232 count? I digress. Last year this was my
favourite beer
. How could you not enjoy a pre-aged barley wine for only $7?
Legacy Ale = 8/10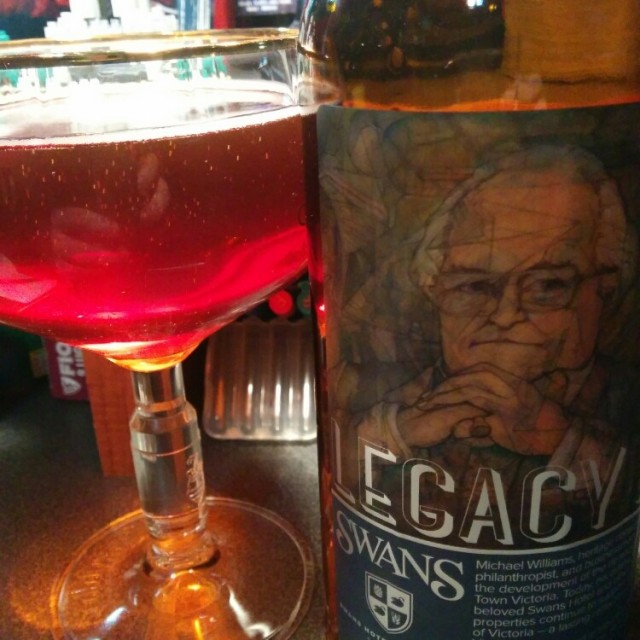 I found this years version a little hot and syrupy. It was still quite nice, but it had big expectations placed upon it. The alcohol warmth and apricot sweetness became apparent as soon as I removed the cap. Sweetness was a major flavour of this barley wine; lots of peaches, apricots and marshmallow. The booziness and mild earthy hops tried their best to temper the syrup. Still, it was a tasty barley wine that is ready to drink now. I'm looking forward to seeing if the alcohol calms down in about six months.
Taste +4
Aftertaste +1
Alcohol Content +1 10.3%
Value +1
Appearance +1
Glassware
: Chalice or tulip
Food Pairings
: The dish would have to be big, rich and fatty. How about
duck pate
? Desert might be nice. I'm thinking apricot upside
down cake
. As for a cheese, a blue would be bold enough to stand up to this warming beer. It might pair well with a quality feta; the salty feta would be a good contrast to this sweet beer.
Cellar
: Might be worth the effort. The malts are pretty thin, but if the alcohol fades....