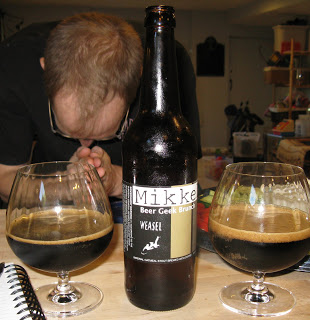 Mikkell Beer Geek - Weasel
Imperial Coffee Stout
Ratebeer
4.22
100th percentile
Beer Advocate
A
Ok, I only bought this beer because it was
highly rated
at ratebeer.com. Other beers that fell into my basket were Pliny the Elder, Rochefort 10 and Hair of the dog Dave. I didn't read the label closely, time was an issue, only had time to grab and run. So the story begins..
Taste +5
It poured as dark as my parole officers heart, with a short lived espresso gelato head. The aroma must be experienced; sweet roasted espresso, vanilla and bitter chocolate. As the brew warmed up bourbon and ethanol became apparent. Did I mention that it poured thick with sediment? The taste made me weep; very creamy, burnt oat toast, espresso and good bittersweet chocolate (70%+ cocoa mass). It was a very big tasting beer.
Aftertaste +2
There was a never ending bittersweet chocolate that coated everything. Oddly, you pick out citrus hints.
Alcohol Content +1 10.9%
You would never have guessed the high alcohol content, it was hidden well.
Value +1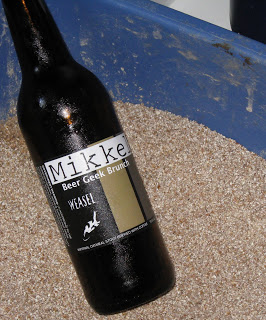 Upon further reading of bottle "...brewed with Civet coffee..". That explains the $17 bucks a bottle. Meterman then pipes up, "We are drinking cat-scat-coffee-beer? Are you sure that sediment wasn't kitty litter?" It was worth it.
Ingame Enhancement +1
No video games this evening. The boys decimated my beer fridge; Weasel, Allagash White, and Doppel-Hirsch all vanished. I think Kyle drank a
Blue Buck
also.
Overall 10/10
This was the greatest beer I have ever tried; only slightly better than
Rochefort 10
. If you can get it, try it.
Other 10/10 beers
Okocim Polish Porter and Wisdom
Obsidian Stout and Self Improvement
Gonzo Imperial Porter
Hermannator Ice Bock and Zombie Wedgies