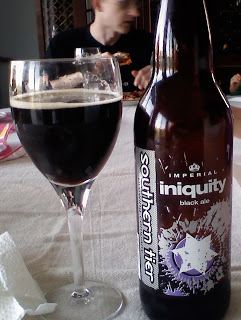 Iniquity Black Ale
Ratebeer
3.75 98th percentile
Beer Advocate
A-
I am getting to be quite the Southern Tier fan. All of their beers have been epic.
Taste +4
Wow, the nose of sweet grapefruit mixed well with the slight roastiness. The mouthfeel was medium-full with a slight astringency and effervescence. Up front the hops hit you with a GLORIOUS sweet, ruby red grapefruit and slight pine. This was followed by a mild roasted chocolate from the dark malts. Take their unearthly and add chocolate malts.
Aftertaste +2
The slight astringency from the citrus hops teamed up with the faint chocolate to hang on and never let go.
Alcohol Content +1 9%
Oddly it was not that warming.
Value +1
Two words; Yum Yum.
Ingame Enhancement +1
Had this beer at my buddy Meterman's (Geoff) house. After this beer, one session lager and 1/2 bottle imperial homebrew, all I was good for was video games. Even that was a challenge.
Overall 9/10
Call it a black ale or call it a black IPA, just call me when you open one. I will be there.
Paddock Wood Black Cat
Asahi Black