I still feel bad for chasing
Brendan
out of town. But this town was only big enough for one opinionated beer blogger, and my ego often swells to fill the room. As a treat after my Black IPA beer school, Lon from
the Strath
brought over a fresh bottle of
La Trappe
Tripel
. This is the second Koningshoeven Trappist Ale you can get in Victoria; I have seen the
quadrupel
from time to time. Check out
Cook Street Liquor
for possible availability of the quad.
Anyways back to the tripel. Apparently it will be on tap at
Clive's Classic Lounge
later this year. Other great tripels include the elusive Chimay white, Westmalle and La Fin Du Monde.
La Trappe Tripel = 8/10
Ratebeer
3.57 95th percentile
Beer Advocate
B+
Once you've tasted one tripel you have tasted them all; the difference is the execution. The nose is perfect: sweet with pit fruits, apricots, spicy yeast and grapenut cereal. A glorious and dry spiciness hits you first, then the malts are released. Sugared sultana raisins mix well with the slight caramel, yeast and bready malts. The ending is dry with peppery hops and spicy yeast leaving almost as much burn as the alcohol. It must be the yeast. You could unleash this yeast on barrel aged breast milk and make it taste good.
Thanks to Shawn for the great floor show. Where else in town can you get a bottle of beer sabred?
Taste
+4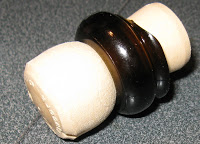 Aftertaste +1
Alcohol Content +1 8%
Value +1
Appearance +1
Westmalle Tripel and Beer Bottle Headshots
Tripel Karmeliet
St. Bernardus Tripel