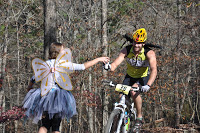 I must admit to feeling a little bit of pressure. This has been the most talked, and tweeted, about release in Victoria's beer scene. Maybe just my scene. There is also more pressure because a six-pack was delivered by magical beer fairies today (thanks Wade). A review must be done and an opinion must be given. So here we go:
This beer is clearly going for the throat in the fierce BC IPA battle. It must take on Phillips Hop Circle, Red Racer, Tree's Hop Head and the current reigning champion Driftwood's Fat Tug. The choice of the six pack means it is going for the regular drinker and not the beer geek bomber crowd. What I found interesting about beer was the clearly displayed hop choices: Citra, Zythos and Falconer's Flight. Don't go start flipping through your homebrewing books for information on these hops because two of them are proprietary blends. Falconer's Flight is a blend by
HopUnion
and named after brewing guru
Glen Hay Falconer
. It's a blend of 14 different hops, including Citra, Simcoe and Sorachi Ace. Zythos is another PNW IPA hop blend by
HopUnion
. This is akin to an uber-meritage of hop IPA goodness. How does it taste? Three words: fricken awesome stupid.
Switchback IPA (Lighthouse) = 9/10
The nose is all Citra goodness: tropical fruits, jet fuel and nail polish. Added to the nasal punch is passion fruit, minor pine, and mixed citrus. Each sip delivers these flavours with a memorable bitter astringency. This is not an overly sweet IPA. Malts be damned. But if they must mentioned, then call it earthly with a wisp of caramel. Then ending is tongue scraping and long lasting of lemons and pomelos.
I plan to adapt this as my go-to six pack IPA when I visit friends. It strikes me as a
Brockton IPA
turned up to 11; drinkable but extremely flavourful. Bias be added; yes I am friends with Dean (and now Dave) from Lighthouse. Sometimes your loudest critic is also your biggest fan. Well done. This will be the summer of Victoria beer supremacy shakeup.
Taste +4
Aftertaste +2
Alcohol Content +1 6.5%
Value +1
Appearance +1 nice art
Other IPA reviews
Fat Tug
Grow Hop Centennial
Southern Hemisphere Harvest