This is the first bomber from Vancouver Island in recent history. It is a very good sign for Victoria's beer drinkers. Here are the reasons why. The first is that there is now another brewery in town producing limited releases. The second is that this release is a new style and not a duplication. The third is that this beer is hoppy and really good. The fourth is that VIB doesn't export to the mainland, which means more beer/casks for us. It is good to see the local boys/girls trying new styles, giving us beer geeks something new.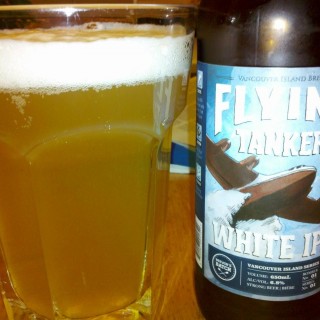 Flying Tanker White IPA = 9/10
I am aware that this is probably the wrong glassware choice for an IPA, but I never get to use my massive Hoegaarden glass. The first thing you will notice is the massive floral, citrus hop nose which hides the slightly spiciness of the Weihenstephan yeast. Next comes the chewiness of the hefe with all the tart yeasty goodness. In quick succession is a slight sourness blended with cream of wheat, lavender, grapefruit rind, lemon and wool. This beer is great and should - no make that will - sell out quickly. I don't think it will cellar well, but who has that much patience. Well done!
Taste +4
Aftertaste +2
Alcohol Content +1 6.8%
Value +1
Appearance +1 fun and descriptive label