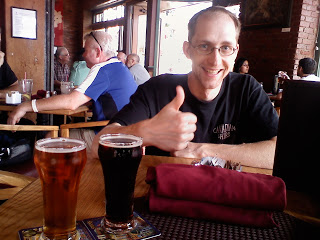 Swans Extra IPA
Ratebeer
3.51
80st percentile
Beer Advocate
A-
The beer in question is the closest one. Meterman seems very happy with his choice of the Swan's
Scotch Ale
.
Taste +4
The nose is quite pleasant with both floral and citrus hops. A hop assertive first sip lets you know that this IPA means business. After the hop bite is done, a wash of caramel barely sneaks in before the hops are back at it again. The hop finish is slightly citrus, but not grapefruit, more of a Seville orange.
Aftertaste +2
The bitterness lingers on for ages, imparting flavours floral hops that are not very astringent.
Alcohol Content 6.8% +1
Yippeee.
Value +1
This was a great PNW IPA and it surely will make a regular appearance in the ARC beer fridge.
Ingame Enhancement +1
No gaming this afternoon; just Meterman and I draining some glasses at the
best brewpub
in Victoria.
Overall 9/10
What can I say, Swan's brews good beers.
Yellow Snow IPA and Resolutions
Hop Goblin IPA
Swan's Oatmeal Stout