This year was a great one for Victoria's craft beer lovers. Every major brewery released a few seasonal bombers. Moon Under Water changed hands. Hoyne celebrated its first birthday. 2012 was also the year that growler fills started to gain more traction. So which brews did the beer prick feel made top marks? It was a tough choice.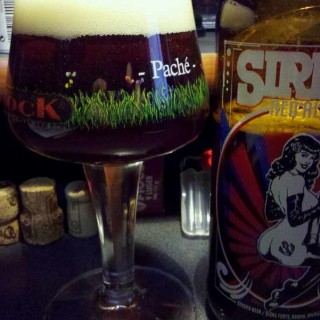 1. Siren Imperial Red Ale by Lighthouse = 11/10
This brew gave every Victorian hophead what they really wanted for Christmas. There were massive citrus hops balanced with equally massive toasted, fruity malts. I have a feeling we will be seeing more of this beer in the future.
2. Singularity 2012 by Driftwood = 10/10
This under priced, barrel aged malt monster
traveled more
than I did last year. Usually consistent year to year.
3. Switchback IPA by Lighthouse = 9/10
Depending upon who you talk to, this IPA currently sits on the top of the BC IPA podium.
4. Belgian White by Lighthouse = 9/10
This is starting to sound like a broken record. Dean has been a busy brewer this year.
5. Flying Tanker by VIB = 9/10
Everyone and their homebrewer released a white IPA this year, I felt this one stood out. Perhaps it was that spicy Weinhenstephan yeast.
6. Eric Jourdan NW Amber Ale = 9/10
For a prize winning homebrew that didn't really adhere to any style, it sure went far. Tasted dang good too.
7. Belgian Black by Lighthouse = 9/10
A ramped up Keepers with a Belgian yeast strain, how can you go wrong?
8. Victorious Weizenbock by Moon Under Water = 9/10
Massive esters and fruitness were the game plan for one of Clay's first brews.
9. Gratitude by Hoyne = 8/10
This was the best winter warmer in town. Rich fruitiness, biscuits, sherry and warmth were just the things one needed by the fireplace. It was the most elegantly packaged beer in Victoria.
10. Sartori by Driftwood = 9/10
Always a seasonal favourite. You know something is good when it sells out within days of its release.
Honourable Mentions
Not everyone can be in the top ten. In no particular order:
Black Swan Imperial Stout by Swan's
I never got around to reviewing this beer, which was a major oversight. It was delicious. Thick, fruity, chocolatey and slightly oaked. This is a great beer. Perhaps the best imperial stout in Victoria.
Beachcomber
by VIB = 7/10
I have no idea how this beer did not win a gold medal. Looking forward to its return in spring.
Pandamonium
by Phillips = 9/10
Outrageously hopped. That is all.
Baltic Porter
by Spinnakers = 8/10
The lightly smoked malts was a nice touch.
Cygnet Ale
= 5/10
Low alcohol beers tend to past by unnoticed. This one had major ester and fruity flavours for something at only 4.2%.
And now the rest
Pott's Pilsner
by Moon Under Water = 7/10
Mad Bruin
by Driftwood = 8/10
Amarillo Single Hop IPA
by Phillips =8/10
Wolf Vine
by Hoyne = 7/10
Electric Unicorn White IPA
by Phillips = 8/10
Red India Ale
by Moon Under Water = 8/10