Day 2 - Drive from Astoria to Portland
Time to pack the bags and head for Portland, home of lots and lots of beer. But not before a quick visit to the Rogue Ale House on Pier 39. I was really looking forward to visiting this pub; Rogue brews has always beer solid and sometimes innovative. It all seemed good at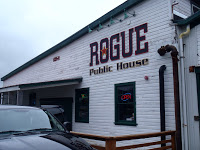 the start. A nice gentleman brought me a beer to sample as I sat down. It was a guest tap:
Buckma
n Black Saison
. The Buckman was very good with ample ash, spicy yeasts and tastings of milk chocolate and vanilla mocha coffee. Your selection of beer samples were listed on blackboards located in various locations around the pub. After listing you choices, which was around 12 beers, on a simple form your sampler tray arrived.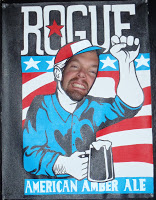 Don't get me wrong, I like Rogue beers, but their public house just seemed a little ... flat. The menu looked above average but not exceptional. There was no brewing on premises, at least not that I could see, just a lot of kegs. There were also lots of Rogue product (ie. bottles and T-shirts) lying around waiting for you to pick them up. Yes, yes I know the point of a pub is to sell beer, but you don't have to be overly invasive about it. And no I do not wish to join the
Rogue Nation
. Perhaps my feelings were tainted by the awesome beers at
Fort George Brewery
we had the
night before
.
After the Rogue let down we headed towards Portland to prepare ourselves for
Oregon Brewers Fest
.